I am most excited to partner CERC Asia to get the Biofreedom STEMI registry. STEMI FREE would provide a great opportunity to investigate the STEMI population in Asia in a scientifically robust manner. The use of Biofreedom stent in Primary Angioplasty should be the logical next step to explore the unique Biolimus property in ACS patients and how the polymer free stent perform in "unknown bleeding risk" ACS subjects.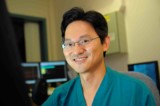 Paul Ong, Principal investigator of the BiofFreedom Stemi Free Registry
I am looking forward to working closely with like minded investigators across Asia to run the study. The chance to make new friends and explore budding trial sites will be equally rewarding.
I am very grateful for placing the trust in me. I am confident that with the expertise and support from CERC Asia we can deliver a well conducted study with robust clinical data.
This is the beginning of a beautiful partnership in Asia.